Buffalo, NY- Thursday afternoon was the first day of training camp for the Buffalo Bills and the Bills' front office did not beat around the bush about what they have in store this season. Just a few days ago back-up QB Cardale Jones was traded to the LA Chargers for a draft pick and there have been a lot of questions surrounding the trade, as well as a new front office that is attempting to bring back a winning slate for the Bills.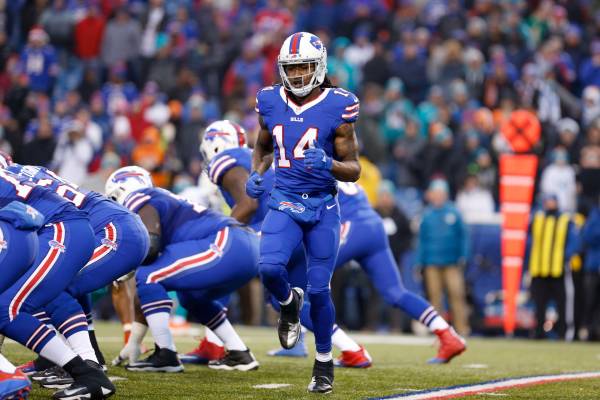 In a recent interview with ProPlayerInsiders, Bills' General Manager Brandon Beane explained the QB situation and how it will benefit both parties. "It's a win-win, and I think that's what you want in a trade. Anthony Lynn is out there. He knows Cardale and has some familiarity. I think that started this, knowing they're watching what we're doing. Cardale's the fourth [quarterback] as we left on vacation. With not having traditional two-a-days like we had back then, you needed four, maybe five quarterbacks. There's not enough reps, really, to have four and give them all of the reps that they need. I think we would have been doing Cardale a disservice and so we found a win-win situation. He's a great young man and I wish him the best of luck out there."
While Cardale was the fourth QB on the depth list, Beane does not expect to go out there and get another QB. He is content with a three quarterback rotation.
The big news this week with going into camp was the potential signing of Anquan Boldin, which could give the Bills a dynamic and physical wide receiver that they desperately need. Beane did not give the percentage of Boldin signing with the Bills, but he did say that they had a great talk. "We had a great visit. Anquan came in Sunday night, nice dinner. He is a great young man – obviously a Walter Payton Man of the Year. They don't just hand those out. He is the type of character, type of person, type of man, type of football player – he plays with a physicality – those are the types of things that we see and know about him. We had a great visit. That's as much as I can tell you right now. He has options as well. I know he's considering that from his end and that's really all I can tell you at this point."
Bills' head coach Sean McDermott is very optimistic about his era with changing the team around and he is excited about training camp. "You don't put on an operation like this at the last minute and one man can't get this done. So, everyone that's been involved from St. John Fisher, President Rooney, the Bills organization, a huge thank you from myself and our staff to be able to show up basically and roll right in to camp and give us a chance to win with this type of operation is phenomenal. It goes a long way in terms of what we're trying to get done. Secondly, to get back to the best fans in football and this area and the Buffalo Bills fans. It's good to connect with our fans in the Rochester area and the ones that travel to come see us, we appreciate it. Finally, I just believe in going away. I know how important that is for training camp. It goes a long way in terms of building our football team. I addressed in the spring in terms of what we're trying to get done and build our identity. Get to know one another the camaraderie that develops for, going away, and develop the toughness of our football team."
McDemott is taking on a young team that has the potential to be a good team, but they have a lot of kinks to work out. Last season the Bills finished at 7-9 and shown that they are a team that can fight back during adversity and could potentially make a playoff run in the new future. With a young QB in Tyrod Taylor and an explosive receiver in Sammy Watkins, this time has the right ingredients to make their season a successful one.
During training camp, Taylor talked about the chemistry that Watkins and himself have on the field. "It was fun to get out there and work on the field as a group. Of course, having Sammy out there from day one, and being able to get up some reps early on and actually get him some touches, was definitely a good thing. Confidence booster for me, confidence booster for him, just got to continue to keep getting him going, as well as the rest of us here. Of course he's an explosive play-maker, one of the best in this league, and having us on the same page definitely brings a lot of positive to our offense. Like I said, the more important thing is that we're able to get the work that we need early on in training camp. He's fired up. I spent some time with him over the summer; physically, mentally he's ready to go, so I'm excited to see what type of year he's going to have."
With the first day of training camp over, it looks like the Bills are optimistic about the new changes with the offensive play-calling and more of a faster pace with getting everyone on the same page. The Bills have a lot of work to do and they understand that they have a head coach who can help them get that "Monkey off of their back."