Seattle, WA- After coming off a bye-week, the Seattle Seahawks' offense came together and put up some big numbers against the 1-6 New York Giants in the second half. For the most part, Seattle was playing from behind the majority of the first two quarters. The offense could not get any production out of their wide receivers, Russell Wilson was not accurate with a couple of his throws, and the Giants was putting pressure on the Seahawks with different blitzing schemes, as well as putting some big hits on anyone that was catching passes from Seattle. The Giants' defense stopped Seattle on the goal line on a fourth and goal and it looked like the Giants were in control of the game.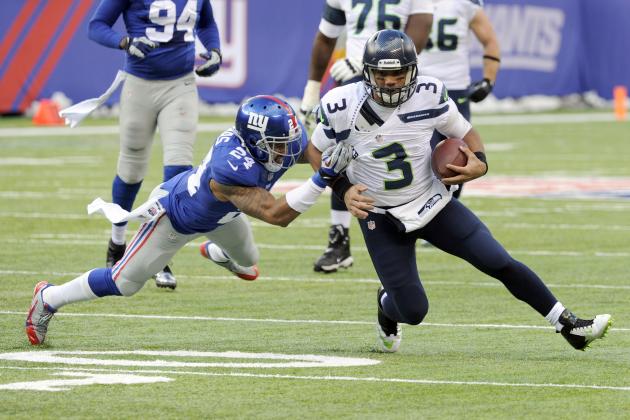 After Eli Manning threw a beautiful touchdown to Evan Engram and the Giants went up 7-0, Seattle attempted to make a drive, but the drive was killed after two holding calls. Those calls were costly and took Seattle out of field goal position. Both offenses struggled to find some type of wrinkle in the defenses, but it was not happening. However, after a blocked punt, Seattle capitalized on the drive with a field goal making it 3-7.
By the end of the half, the score was 7-3.
In the second half, Seattle was a new team. They figured how to get a couple passes to Jimmy Graham and Doug Balwin. With nine minutes left in the third quarter, Wilson threw a pass to Graham that went for 29 yards that set up a touchdown to Doug Baldwin. That touchdown was Baldwins' second for the season. The score was 10-3 and the momentum was switching from the Giants' sideline to the Seahawks.
Manning got his team into field goal position but did not convert on third down, so the Giants had to attempt a long field goal by Aldrick Rosas and he missed it. The missed field goal was the turning point in this game. Wilson went back a few plays later and threw a prayer that was answered by Richardson for a miraculous touchdown, which made it 17-7.
The Giants were looking for some type of spark, but their offense was flat and was just getting smashed by the Seahawks' defensive front. The nail that put this game out of reach was the second touchdown to Graham, which put the Giants hopes of a comeback down the drain.
Wilson completed 27/39 for 370 yards and 3 touchdowns. Also, this is the second time this season that Wilson has gone over 300 yards this season. As of right now, everything is clicking for this veteran group. They are half a game back from leading the division. They are 4-2 and are fighting with the Rams for first place.